October got away from me with only having entered one blog. But it was busy and fun, and fattening, just the way I love my Octobers. And now, it's November which happens to be only one month away from MY FAVORITE MONTH OF THE YEAR! Plus, my birthday is in here somewhere, so I probably have a night of hard partying, a tattoo and a massage/pedi to look forward to in the next couple weeks.
I have been hammering away at my to-do list for the wedding so that I can hopefully take the month of December off to do a crap-ton of awesome holiday activities and plan my baby's second (Oh Lord) birthday party. My amazing best friends/bridesmaids are being ever so wonderful to me - even though I bother at least one of them, and more often all of them with almost-daily phonecalls to ask their opinion on centerpieces, dresses, fabrics, etc. That's why I chose 'em - cause they're super awesome 'n' I love 'em.
This is what the girls have been up to.
Breakfasts and trips to multiple parks with they're sweet cousins.
Hollowing out pumpkins with their Kyle. Oh boy, do we love our Kyle.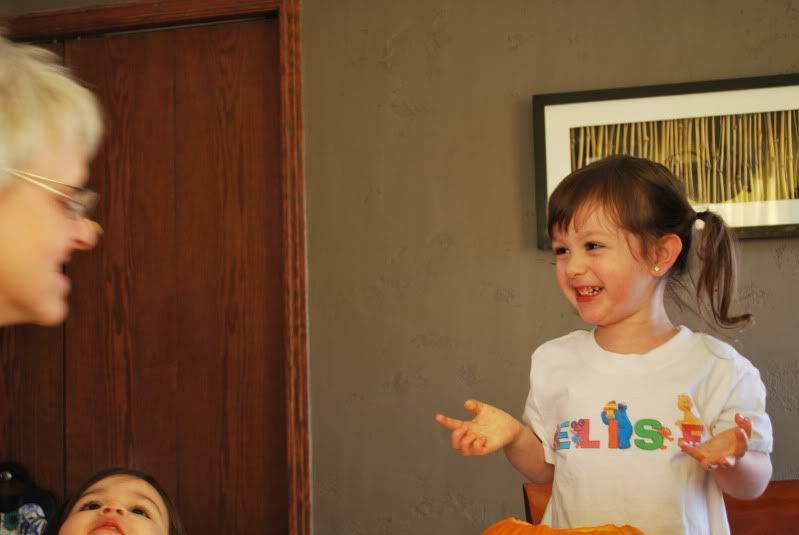 Sticking pumpkin seeds to Nana's nose. That Nana will do anything for a laugh.
Enjoying the cool air of October evenings outside with her beloved Dora pumpkin (on the right, created by her, also beloved - even though she still will not attempt to say his name, Kyle).
Getting dressed up and asking for candy. (These girls have great genes, hey? Rrrrr!)
Cutting their own hair. SCREEEEEEEEECH (insert record stopping screech here). Yeah. CUTTING their own hair! Elise got a hold of a pair of scissors and gave herself a total half-mullet and then went on to chop a couple locks off her sister's head as well. I nearly passed out when I realized but after a couple of emergency hair appointments this evening and two glasses of merlot after bedtime - I'm sort of digging the half mullet. Elise seems to think it's rad too.
And my baby's new do is pretty sweet too, thankfully her cheeks make her face perpetually baby or the bangs might have broken this Mama's don't-turn-her-into-a-big-girl-just-yet-heart.
We're all heading to jasper this weekend for a mini-vacay and I'm looking so forward to getting away with our unit. Yeah, unit. That word sure has meant a lot of totally different things throughout my life... Love, peace, chicken grease.